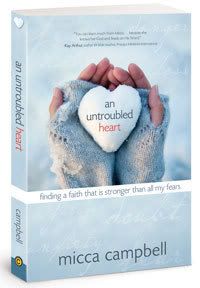 Micca Campbell's
book came out in March/April 2009. I received a copy from her to read and write a review on. I believe she asked me because I have posted about wrestling much with fear. It has been good to go through this study over the long time period that it has taken in preparing our yard for Kayla's wedding. I have had much to ponder as I planted flowers, watered, and pulled weeds.



God has been pulling some weeds from my heart at the same time...



My struggle with fear hasn't been so much over "lions and tigers and bears", but the"What if's?" What if I fail at...what if I don't get that done....What if that person yells at me(my personal pronouns are quite revealing).

I first encountered Micca @
She Speaks
last summer. I attended a workshop she spoke at. I remember sitting there thinking, "I would love to have a chat with her, I think we could be fast freinds." She was very comfortable in her own skin, and exhibited true love for Jesus. She used alot of her personal stories to highlight her message. She does the same thing in her book.





Micca knows the answer to fear is faith in God. The entire book points to His power, His love, and His ability to handle anything that comes our way. Each chapter paves the way for the next. The first chapter is her story of loss, and how she struggled, but through faith, found her peace and rest in God. Because of this experience, she can encourage us in all our struggles... Warning, I cried! You probably will too! But it is good to know how God has carried our sister.





Reading the book was like having a friend to dialog with about my fears. Micca shared so many personal stories that I could relate with. The Lord would bring to mind incidents in my own life with similarities. Many times I was encouraged that I had turned over fears to the Lord, and other times, I was seeing why the struggle had become difficult...due to my wrong focus, or wrong thinking about God.

There are questions at the end of each chapter to draw out how we think about things, or what we are currently struggling with, and scripture studies to encourage, and transform our thinking...
I have not been struggling currently with any overwhelming fears, but from time to time, the wedding prep has brought "what if's" to my heart, and I have been using those times to put my faith into practice and turn it over to the Lord...
Thank you Micca, for being faithful to share what the Lord called you to share. Isn't it beautiful how He brings good from everything?
Now I am having a bloggy give-away! Today is Sunday, July 12th. Next Sunday, July 19th, I will draw from comments for a copy of Micca's book!!
BTW, I did have a chat with Micca in the lobby of the hotel at the end of the confrence, and even though she didn't know me from Eve (smile) she was sweet like I knew she would be...